Why a kinetic visual identity¶
What is a brand?¶
Before we can understand the need for a kinetic visual identity, we need to understand what a brand and a visual identity are. The word brand has had different meanings throughout its modern history. During the twentieth century it meant:
[…] principally the attachment of a name and reputation to something or someone, primarily to distinguish it from the competition.

A brand is also far more than the name, logo, symbol or trademark that highlights its origin; it is imbued with a set of unique values that defines its character and works as an unwritten contract, promising to deliver satisfaction by providing consistent quality each time it is bought, used or experienced. Brands also seek to connect emotionally with their consumers, to ensure that they are always the first and only choice, creating lifelong relationships. [40] [p. 12]
This definition revolves around the brand promise and its relationship with the customers, but Neumeier [27] would argue that it is incomplete and proposes that the contemporary definition shifts the ownership of a brand from the company to the consumers. In summary, "a brand is not owned by the company, but by the customers who draw meaning from it. Your brand isn't what YOU say it is. It's what THEY say it is." [27] [p. 5]
Visual identity¶
As seen above, creating a brand is a large scale, continuous effort, which also includes the participation of its customers. It is much more than a logo and a few visual assets. Nevertheless the visual identity is a manifestation of the brand and it plays an important role in its context. As a simple analogy we can think of a brand as being to a person, what the visual identity is to that person's dressing style, haircut, etc. The visual aspect of a person is not the same as the person; he or she also has a voice, a personality and so on. But the visual aspect helps other people recognise him or her in the crowd.
The visual aspect of a brand identity, the visual identity, is at the core of this thesis. But, for the sake of completeness, I will start by defining what a brand identity is. According to Slade-Brooking [40] [p. 28], "[a] successful brand identity is made up of a series of interlinked elements that all aim to communicate the core values or purpose of the brand." Brand identity is, thus, that part of the brand strategy that falls most easily within the control of a company. It can also include verbal or sound elements—referred to as verbal identity and sound identity respectively. In this thesis I focus on the visual component of a brand identity, the visual identity:
On the most basic level, the brand or organisation's visual identity differentiates the organisation from others in the competitive marketplace. On a more strategic level, a visual identity could serve the higher function of helping an organisation achieve a positive image or more critical, even negative if it aims to be–and ultimately a positive reputation–in the minds of the public. [44] [p. 130]
The visual identity is itself composed of several elements. These usually include a brand icon or logo [40] [p. 28], a slogan, color and typography [19] [p. 329]. Most cases also include other visual elements, such as imagery (a specific way of using photography or illustrations) and graphic elements (e.g. abstract shapes or patterns that add up to the visual assets of a brand).
In this thesis I will deal exclusively with the concept of visual identity and will not delve deeper into the discussion of branding and brand identity, but that discussion should always be in the back of our minds when talking about visual identity; we need to understand what part it plays in the whole.
Static and dynamic visual identities¶
The dominant paradigm for creating visual identities nowadays is the static visual identity [25]. The origin of this paradigm is often credited to Peter Behrens: while working as artistic advisor at AEG he created what is deemed to be the first modern visual identity system. Murdock states that the static visual identity:
was born out of and embraces the processes of the industrial revolution, and the progenitors of this approach were driven by the idea of employing commonsense objectivity (Sachlichkeit) to create a totalizing visual aesthetic (Gesamtkunstwerk) through the dismantling of existing visual regimes and the manufacturing of new ones. The geometric simplicity of trademarks produced by twentieth century designers such as Peter Behrens and Otl Aicher, who were working within the static visual identity paradigm, is both a testament to the need this approach has for industrial standardization and for a symbol conceptually abstract enough to represent the ideals of the client organisation. [25] [p. 51]
This model, might appear to be the only approach to create visual identities, but Murdock [25] argues that parallel to the development of this static approach there was a contemporary (even earlier), distinct approach: the dynamic visual identity. Canonical histories of visual identity place the origins of this approach in the 1980s, specifically with the fluid logo and visual elements employed by MTV. But Murdock [25] [p. 14] places its origins in 1908 northern Italy, where the Olivetti Corporation developed a more fluid and incremental practice of visual identity. This practice used the company's "norm of the beautiful" as a starting point of a multi-year and multi-stakeholder process for creating its visual identity. It did not attempt to impose a single, top-down set of rules and it was composed of "a loosely connected constellation of elements that formed a dynamic and flexible visual identity system".
Criticism to this approach from the graphic design establishment (design schools, organisations, and practitioners alike) relegated this practice to that of a mannerism or a trend. Instead, dynamic visual identity is an established practice, whose "theoretical underpinnings actually predate the modernist theoretical underpinnings of static visual identity design" [25] [p. 18]. According to Murdock, in the dynamic visual identity paradigm:
[…] the goal is to balance the number of constants and variables within the morphological field. This is done in order to create a visual identity system that is consistent enough to be recognizable yet open and flexible enough to adapt to new situations and contexts (emphasis added). [25] [p. 53]
In the chapter Motley Agency branding 2020: analysis of the kinetic identity I will describe a kinetic visual identity, which is a direct descendant and a sub-category of the dynamic visual identity. The latter—albeit some confusion might arise from the word dynamic—does not necessarily imply motion or animation. It is an expression of how a company's visual identity presents itself to its stakeholders in different occasions. The project I will describe is indeed a dynamic visual identity, in the sense that not every detail of its implementation are statically predefined. But it is also a sub-category of it, which includes the built-in conception of motion.
Visual identity in the digital age¶
The visual identity is developed as part of a brand book, which includes other brand guidelines. It is essentially a set of rules that dictate how to produce visual identity assets. Typical cases include logo protection area (how much space there should be around the logo to keep it legible and detached from its surroundings); a color scheme (the standardisation of the colors that are allowed and those that are not allowed when producing visual assets for the brand); etc (see, e.g., Fig. 1).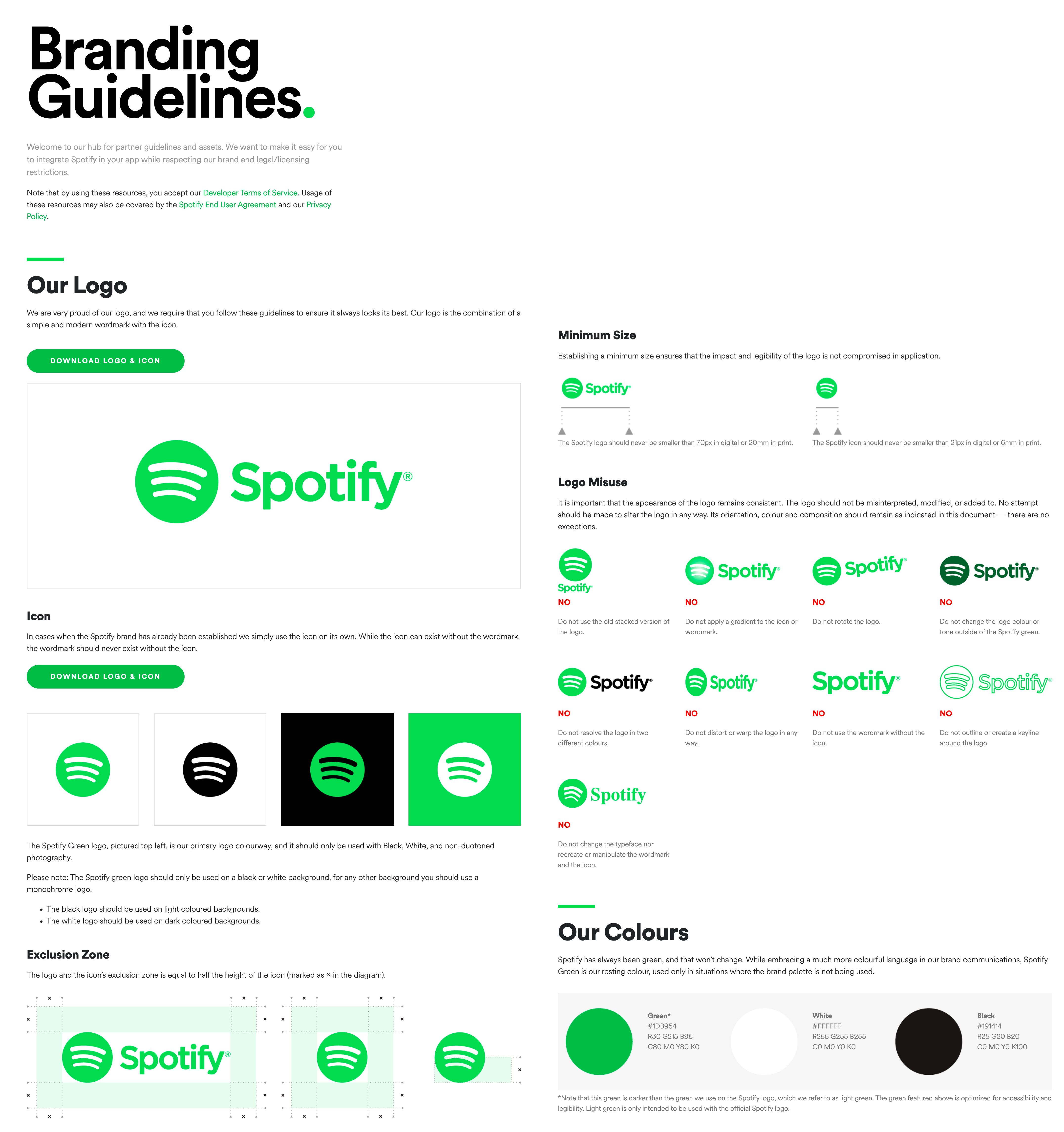 The rules defined in a typical visual identity guide are meant for humans to read: they are written in human languages (for instance, English) and include visual illustrations of what they are trying to express. This practice, I claim, reflects a historic accident: during the 20th century, when the creation of brand guidelines became widespread, this was the optimal means of conveying rules for producing visual assests in a way that leaves enough room for flexibility and, at the same time, ensures the consistency of the whole.
Before the advent of the computer visual assets had to be created by mechanical means (e.g. offset print, based on handmade layouts). Laying out a page for a poster, for example, meant manually painting or placing graphic elements on a sheet of paper (see, for example Fig. 2), which would later on go through a process of color separation and the print itself.

When computers became established as the primary means for graphic design, they also brought in the baggage from the print era. Software was developed that emulated the print process as it was done during the 20th century—e.g. the Adobe suite: InDesign for page setting, Illustrator for creating graphic elements, Photoshop to enhance photographs [37] [p. 10].
As much as it can be argued that these programs helped popularise digital design and allowed designers to use digital media to do graphic design, they also embbeded—and even imposed, I would argue—a paradigm for creation [37] [p. 10]. That paradigm was the inheritance from the Gutenberg printing press era.
In contrast, computer languages—such as C++, Java, Javascript—are designed for a much broader spectrum of activities than only creating images in a certain way. They are general purpose tools and, for that reason, are conceived to be more powerful. The unfortunate side effect of this acquired power is that they are less intuitive to use and have a much steeper learning curve.
The practice of the guide described above for creating visual identities is anchored in the tradition of static visual identity (Static and dynamic visual identities) and the mechanical print processes (see The movable type and the digital revolutions). It does not take advantage of the full power of the digital medium in the stages after the publication of the brand guide, since it necessarily understands the visual identity as a static monolith of normative rules ("use the logo in this way", "use only these colors", "use these predefined graphic elements"). The publication of a closed, totalistic brand guide is what makes a visual identity static—as opposed to dynamic.
Moody states the corporate identity—that is, essentially what I am calling here a static identity—was made up of "words and pictures" and "helped the people in big organisations stand out, for a while" [20]. But it had to be replaced by the brand identity, which, to him and as described in the Visual identity section, goes deeper:
[…] not just making a brand visible and desirable, but creating design assets in their own right. Each component could stand alone, and form part of a whole to tell a bigger story. [20]
And he continues to ascertain that:
[a]n identity has to be a manifestation of an organisation's soul, in a big, broad, 'Bowie' sense. It needs to listen, behave and react to users with human-like nuance and in real-time. [20]
As an example he refers to the work that Wolff Olins did in collaboration with Onformative for Oi Telecom: "a user-generated logo that reacts to the sound of the customer's voice" [41]:
[t]he eventual shape and colour of the logo depends primarily on the pitch and volume of the person's voice – a deep voice likely to produce red or brown colours, whereas a high pitch voice logo will likely be skinny and fluorescent. [41]
"Oi" is the Portuguese word for "hi" or "hello", the logo loosely resembles speech bubbles, used, e.g., in comic books to metaphorically give voice to characters. In this identity it is as if the brand is giving voice to its customers. There is not one single expression of the logo, but as many as there are users willing to lend their voice to the application (see Fig. 3 and 4 ). The company logo is not predefined, but must be actualised in the real world in order to exist.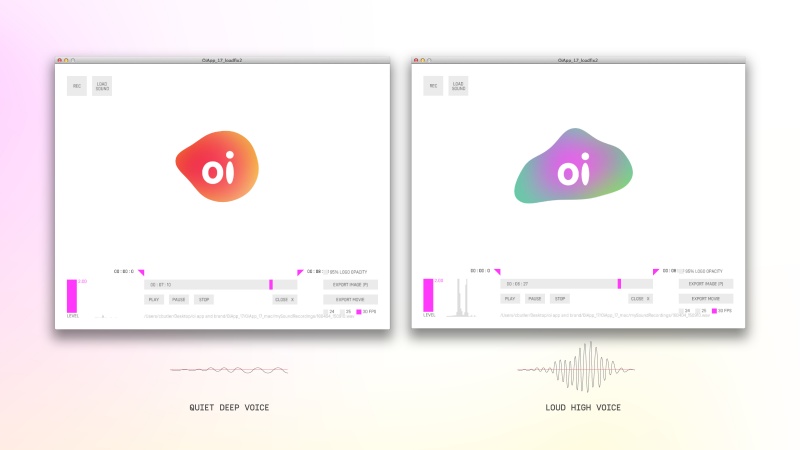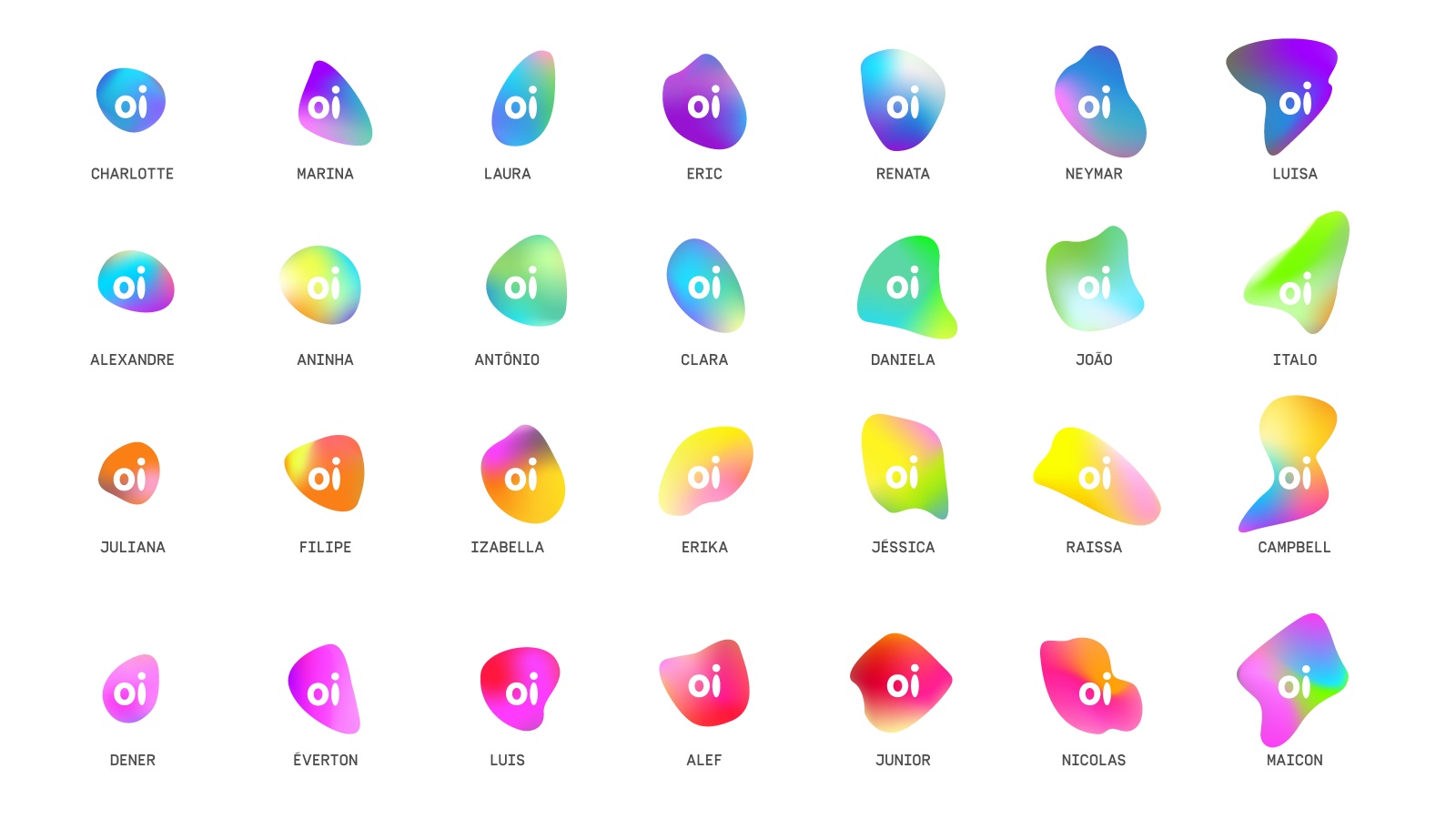 As I said above, visual identity guides are essentially sets of rules for generating visual assets. Computers are machines that excel in following rules. In theory one could devise a computational procedure to generate visual assets based on traditional visual identity guides. I will refer to this procedure simply as software, which according to Kitchin [16] [p. 3]:
[…] consists of lines of code—instructions and algorithms that, when combined with appropriate input, produce routines and programs capable of complex digital functions.
But computers are better at following rules than humans are; they are capable of following far more complex rules (or rules with more complex implications) and in a much shorter time. More complex rules can create more variety within a predefined set of constraints. They can also give rise to expressions that are impossible (or virtually impossible) by standards of manual labor.
More speed also means that more assets can be generated in less time. Although I do not claim that speed is a value in itself, I argue that there could be a gain in quality if only over the sheer amount of assets generated and the subsequent increase in statistical probability of better results. Also, more quantity gives the human agent (e.g. designer) more possibilities for their different use cases she might encounter. This can be enhanced by a software for generating assets based on parameters given by the user.
Lastly such a tool can generate the assets in real time for the end users with their participation, as was described in the case of Oi Telecom. This way the brand visual elements can interact with their customers wherever they are, as long as they do it via digital means.
In the following sections I will develop two examples of brand identity visual components (Typography and Graphical elements). They are not meant to be an exhaustive analysis of the components of a visual identity, but, instead, were chosen among the many possibilities that these components can assume, because they were the ones explored in the project described in the chapter Motley Agency branding 2020: analysis of the kinetic identity. They form both the theoretical background and the motivation for the project. They also happen to be the ones I am personally more interested in.
But first a preamble about two revolutions.